by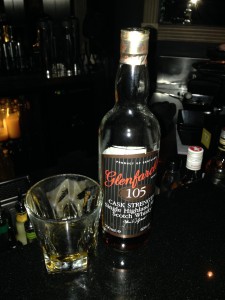 Glenfarclas 105, 10 Year Old Cask Strength Single Malt. Highlands, Scotland. ABV: 60.00%. $32 – Tasted at Malt Supper Club.
Colour: Bourbon-like bronze colour. I think (hard to tell in a dark bar).
Nose: Plenty of phenols, overpowering most flavours to be honest.
Palate: Big spice, lots of alcohol heat (to be expected from a cask strength though). Not much sweetness.
Finish: Long heat, long spice.
Comments: Ha, by sheer dumb luck whisky #105 is the Glenfarclas 105. Could not have planned that any better! Unfortunately it's not as refined or tasty as I would expect for the price point. It's called the Glenfarclas 105 as it's 105 proof, as if they're a wee bit proud of producing a whisky at such a strength. Ultimately, I think the alcohol is a little too dominating of the flavours here, definitely not the finest Glenfarclas I've tried before.