by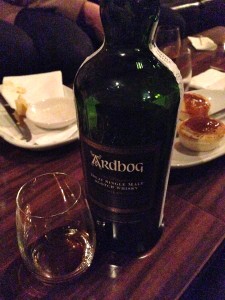 Ardbeg Ardbog Cask Strength Single Malt. Islay, Scotland. ABV: 52.10%. Tasted at Helvetica, $0 courtesy of a guy named Eamon who was keen to hear about the Whisky a Day project.
Colour: Dark coppery cherry sherry.
Nose: Smokey creaming soda. Lots of peat smoke like most Ardbegs, hint of cherry.
Palate: Creamy salted caramel with a hefty dose of smoke, but its not overpowering.
Finish: Ah, that's more like your typical Ardbeg. Long heat & peat finish, but some of those sweet creamy cherry flavours just manage to poke through.
Comments: Great to taste an Ardbeg with some variety. Don't get me wrong, I've always loved Ardbeg and think it's cracking value for money (if not one of the best value for money whiskies on the market), but some of their expressions are a bit too similar. Released for World Ardbeg Day in 2013, the Ardbeg Ardbog was great; the heat & smoke were toned down and some other sweet flavours came through. Good drop.