by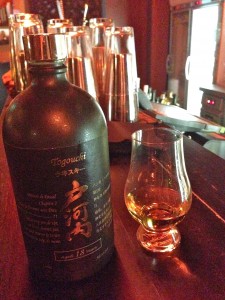 Nikka Togouchi 18 Year Old Japanese Blend. ABV: 43%. Tasted at Canton Lounge, $0 (courtesy of bar manager Steve).
Colour: Deep straw. 
Nose: Sweet hay & soft vanilla.
Palate: Not much spice, just heat. Oaky vanilla. Steve behind the bar gets some bacon flavours, although concedes this may be due to having eaten bacon earlier. I reckon it is quite chewy and a little salty, so it does strangely enough have some of those qualities. So maybe a little more like biltong than bacon. Meeeeeeat.
Finish: Subtle vanilla notes quickly fade, leaving the warmth lingering throughout the mouth for a while.
Comments: Surprising complexity & flavour intensity for a blend. I'm definitely finding a preference for Japanese blends over other more traditional (e.g. Scottish) blends.