by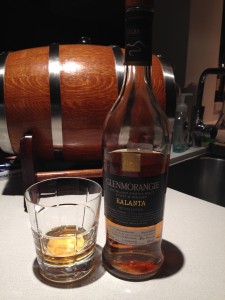 Glenmorangie Ealanta Private Edition Single Malt. Highlands, Scotland. ABV: 46.00%. Tasted at home, $150 (bottle).
Colour: Deep lustrous golden bronze.
Nose: Lots of vanilla and oak. Hardly comes as a surprise given the Ealanta has spent 19 years maturing in virgin American oak barrels, but it is still a beautiful nose. Some chocolatey notes too.
Palate: Dryish earthy mouthfeel upon entry, but that is quickly forgotten as the flavour bomb explodes in your mouth. Toasted, spiced woody flavours, still a fair hit of vanilla but not as strong as in the nose. Creamy nutty flavours too.
Finish: The smooth oaky vanilla and spices just keep building, a long finish to really enjoy what is a fantastic dram.
Comments: In Jim Murray's 2014 Whisky Bible, he rated the Glenmorangie Ealanta as World Whisky of the Year with a score of 97.5 out of 100. Needless to say, I was quite keen to taste it! Partly because of its reputation, but also because Glenmorangie would probably have to be my favourite distillery.
So did it live up to the hype? Yes and no. I love it and I'm very happy to have a bottle in my collection at home, especially sitting beside the Glenmorangie Companta which is also an amazing whisky. However for me, the Ealanta didn't have that "wow" factor I was hoping for when trying the world's best whisky, similar to the experience when tasting say the Glenrothes 1969 The MacPhail's Collection. I guess when you're judged the world's best whisky it ensures that people have some pretty high expectations that may be a little hard to live up to. Nevertheless, highly recommended!