by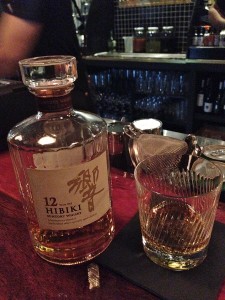 Suntory Hibiki 12 Year Old Blended Japanese Whisky. Osaka, Japan. ABV: 43.00%. Tasted at Old Faithful Bar & BBQ, $15.
Colour: Honied gold.
Nose: Not an overly powerful nose, perhaps unsurprising for a 12 year old blend. Subtle oak, honey & vanilla.
Palate: Smooth entry, mild flavour intensity. Subtle oak & sweetness again.
Finish: Short-medium.
Comments: It's quite mild, a little too mild for my liking. It's very drinkable, but just doesn't have the depth or flavour complexity that I really like in a whisky. I prefer the Hibiki 17 year old which has more going for it flavour-wise, but even that's a little too smooth and thin for me. If you're after a good Japanese blend, I would recommend you try the Nikka From the Barrel instead, top drop.