by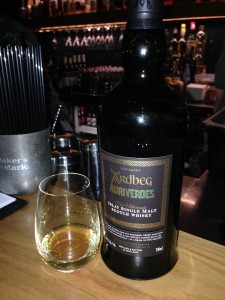 Ardbeg Auriverdes Limited Edition Single Malt. Islay, Scotland. ABV: 49.90%. Tasted at Helvetica, $29.
Colour: Golden.
Nose: Not as peaty as I was expecting for an Ardbeg! Still plenty of smoke, but also leather and some surprising sweet notes. Some typical Ardbeg notes in there though, but much more subtle than say the 10 year.
Palate: 'Cool smoke' is how I'd describe it. It doesn't have the heat of other Ardbegs, plus that very subtle sweetness pokes its head through.
Finish: Quite similar to the 10 year in terms of the finish flavours, but the Auriverdes is definitely a lot softer.
Comments: It's great to see Arbeg mixing things up a bit with the Auriverdes release for World Ardbeg Day. Too many expressions in the Ardbeg stable are overly similar – sure there's some subtle differences but in many cases I find the distinction too subtle, especially for such a big peaty, flavoursome whisky.
The Auriverdes has some unmistakable Ardbeg qualities, but for me it's just not that special, particularly when you consider a bottle of it will set you back $200 AUD. It's ok, but a little disappointing given this is intended to be a special release to commemorate Ardbeg Day.