by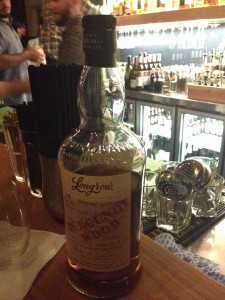 Longrow Burgundy Wood 14 Year Old Cask Strength Single Malt. Campbeltown, Scotland. ABV: 56.10%. Tasted at Helvetica, $27.
Colour: Rich Amber. It's been a good night on the stripper's pole for the old girl.
Nose: Oak is the first thing that hits you, followed by some sweet smokey bacon notes.
Palate: Smoother than I was expecting for one so strong. Tastes more like a sherry matured dram.
Finish: Sweet sherry flavours.
Comments: My mate Charles the Frenchman can't find any burgundy in it. Sacré bleu!