by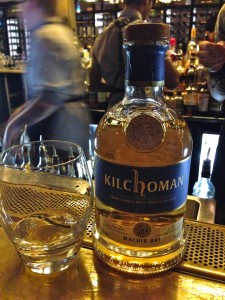 Kilchoman Machir Bay Single Malt. Islay, Scotland. ABV: 46.00%. Tasted at Print Hall.
Colour: Pale straw.
Nose: Sweet peat. Not a sexy alluring kind of peat, but there are some sweet notes.
Palate: Smooth entry, but has neither the peatiness nor the meatiness of the really great Islay malts.
Finish: Heat & peat linger, but nothing too exceptional to report.
Comments: Tastes like a sweeter Ardbeg 10. Not bad, but wouldn't rush out to buy a bottle. Kilchoman is a very young distillery having been founded only in 2005, so we shouldn't be too harsh on them. I'm excited by what I've tried so far (see also the Kilchoman Loch Gorm & Kilchoman Single Bourbon Cask 5 year old), but feel that perhaps they're releasing their malts a little too soon so as to begin to see a return on their investment, rather than waiting a few extra years that might see the whisky's flavours develop a little more.