by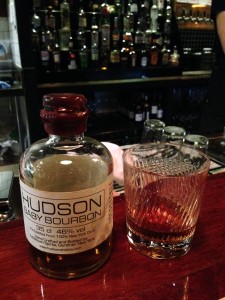 Tuthilltown Spirits Hudson Baby Bourbon. Gardiner, New York State, United States.
ABV: 46.00%. Tasted at Old Faithful Bar & BBQ, $26 (45mL serve).
Colour: Bright copper.
Nose: Kind of smokey & meaty. Oh wait, the chef just opened the door to the slow cooked smoker here at Old Faithful…after having a closer nosing, the whiskey gives off subtle oak & roasted corn aromas.
Palate: Smooth, very smooth. Vanilla oaky flavours, quite intense.
Finish: Smooth corn aftertastes, along with some oak & mixed spice.
Comments: I like it a lot, it's much smoother than some other bourbons I've tried, no alcohol burn on the palate, great flavour complexity too. The Hudson Baby Bourbon is produced from 100% corn, whereas the other Hudson whiskies (which I have yet to try) are produced from other grains. I really like the bottle design for some reason – I've never really mentioned bottle design in my reviews before, but the packaging on this one is really sharp.
The other curious bit of trivia I learnt about Hudson is that they have an unusual "acoustic maturation" method. To speed up the maturation they use very small barrels (which itself is not unusual) to increase the amount of contact the whisky has with the wood. But to really give the maturation a shot in the arm, they also hauled in a heap of bass speakers and played some heavy music (apparently they experimented with some dubstep and A Tribe Called Quest) to use the acoustic waves to agitate the barrels. "Barkeep, give me a Hudson Baby Bourbon straight up, plenty of dubstep, hold the treble."