by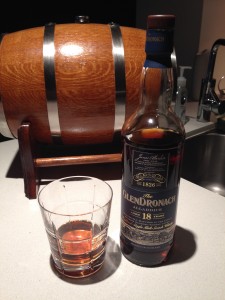 Glendronach Allardice 18 Year Old 100% Sherry Matured Single Malt. Highlands, Scotland. ABV: 46.00%. Tasted at home, $125 (bottle).
Colour: Deep almost purplish copper.
Nose: Dark fruity sweetness, caramel aromas too.
Palate: Toffee, vanilla, sweet woody flavours.
Finish: The chewy sweet caramel flavours gradually fade to a reasonably dry finish with a gentle tingle on the front of the tongue.
Comments: Glendronach are one of the few distilleries to have their single malts 100% matured in ex Sherry casks, with many sherry drams from other distilleries using ex bourbon barrels for the majority of the maturation before spending some time 'finishing' in Sherry barrels.
The Allardice is quite a bit woodier than I recall the Glendronach Revival 15 year old was, but they're both great whiskies. Do I like it? Absolutely, it's fantastic. Would I rate it above the Revival 15 year old? I don't think so. The Revival really is superb, and while the Allardice is a great whisky, I'm not sure that the extra 3 years maturation has made it a step-change improvement that warrants the extra $25/bottle investment compared to the Revival.