by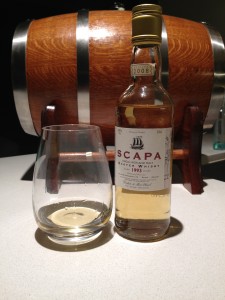 1993 Gordon & Macphail Scapa Single Malt. Orkney Islands, Scotland. ABV: 40.00%. Tasted at home, $75 (350mL bottle).
Colour: Very pale straw.
Nose: Slight medicinal scents, hay-like aromas too.
Palate: Salty, earthy straw flavours. Quite a thin flavour profile, not a lot of depth. Flavours remind me a little of drinking a Ballantines and soda water.
Finish: Shortish finish, not much heat. It doesn't fill the mouth with flavour or warmth, it's quite fleeting.
Comments: Despite it being quite easy to drink, I was a little disappointed in this one to be honest. I've been enjoying some of the whiskies produced by independent bottlers, and I was particularly looking forward to trying something by Gordon & Macphail given their reputation. Overall, this one was a little uninspiring – apart from the straw scents and flavours, there wasn't too much else to take out of this one. It didn't have the peat or intense saltiness from other Scottish island whiskies, nor did it have much complexity.