by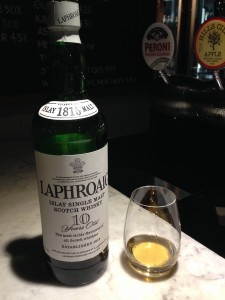 Laphroaig 10 Year Old Single Malt. Islay, Scotland. ABV: 40.00%. Tasted at The Royal, $12.50.
Colour: Translucent yellow. Sounds a bit boring, but it's not really gold, pale straw or any other shimmering hue – it's just a yellowish colour.
Nose: Bam, lots of peat. Bit of camphor too, maybe some popcorn too. But not as strong with the alcohol feints as I remember from when I last tried it a year or so ago.
Palate: The peat obviously dominates, but it's still a smooth smoky entry. Some charred meaty flavours, like a flame cooked steak.
Finish: Incredibly long smokey finish. Some dry vanilla & cocoa flavours in the fade.
Comments: Being almost half way through the year, I thought it would be appropriate to start choosing some of the malts more commonly available at your average bar. Up until now my strategy has been to select the more unusual whiskies at each bar, as it will be difficult to find more uncommon whiskies as the year progresses. I've also got the Australian Whisky Tasting Championship coming up in Sydney next month so I need to get some tasting practice done on the more common single malts!
Regardless of its availability, the Laphroaig 10 is a great drop, a fantastic example of the Islay style and a stock entry-level Islay single malt that wouldn't look out of place of any whisky collection. If you're looking to build a collection I wouldn't say get this AND the Ardbeg 10 as they share similarities, but both are cracking value; very drinkable and both great examples of the Islay style.