by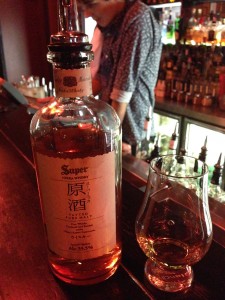 Super Nikka Vatted Pure Malt – Genshu. Japan. ABV: 55.5%. Tasted at Canton Lounge – $0 courtesy of the house.
Colour: Red-lantern-affected gold.
Nose: Quite sweet; a bit like a freshly varnished timber floor.
Palate: Much bigger to taste than the nose suggests. Sweet woody notes.
Finish: Quite long; sweet pepper aftertaste. It's almost like an Islay whisky but without the big ashy peat flavours.
Comments: Reminds me a bit of a Kilchoman; quite young and raw, full flavours but with only a hint of smoke. Much less than Kilcohman offerings though.