by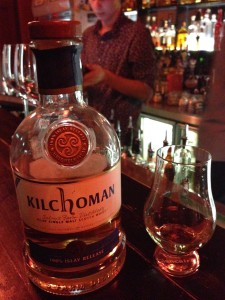 Kilchoman 100% Islay 2nd Edition Single Malt. Islay, Scotland. ABV: 50.00%. Tasted at Canton Lounge, $16.
Colour: Through the red lantern tinted glass, it's pale gold. I think.
Nose: Much sweeter than I was expecting from an Islay, but also some smokey peat coming through. It's a big nose, but not big as in the typical Islay smoky ash scents. Some subtle medicinal feints as well.
Palate: Big robust peatiness, charred woody flavours too. Quite meaty too.
Finish: A dry finish; long on the flavour, more of a typical Islay smokey finish.
Comments: At only 3 years old, this is a very young whisky. In fact, it's the minimum length of maturation time before you can legally call it "whisky" in Britain. Despite this, it has an amazing depth of flavour, surprisingly complex.
Interestingly, the barley for this dram is both grown and malted by the distillery (which isn't all that common), hence the tag  "100% Islay".