by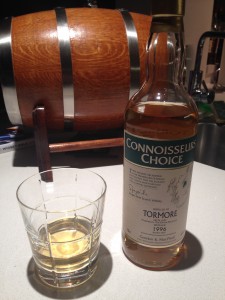 Gordon & Macphail Connoisseurs Choice Tormore 1996 Single Malt. Speyside, Scotland. ABV: 43.00%. Tasted at home.
Colour: Pale gold.
Nose: Like sticking your nose into a tub of fresh honey.
Palate: Sweet fruity flavours, a touch of pineapple. A bit like a spoonful of fruit salad.
Finish: Grassy flavours, quite sweet.
Comments: A surprisingly light and fresh whisky. Not a thin mouthfeel though, quite full. Not your typical Speyside malt I would suggest, so if you're looking for something a little different give it a go. That's the great thing about whisky from independent bottlers, you'll always discover something a little different that will surprise (and often surpass) your expectations. I'm not sure that I'll buy another bottle of this one as I don't think it's too remarkable, but I will replace it with another independent bottling of some description.