by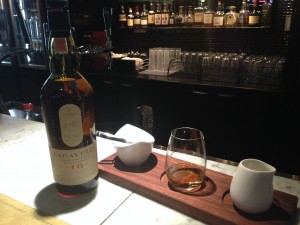 Lagavulin 16 Year Old Single Malt. Islay, Scotland. ABV: 43.00%. Tasted at The Royal, $15.
Colour: Deep coppery amber.
Nose: The scent is instantly recognisable, unmistakably Lagavulin. I can smell it from a metre away. Big peat, lots of smoke. Another sniff reveals some medicinal scents.
Palate: Quite an oily mouthfeel, you really feel the smoke rolling in and enveloping your whole palate. Big flavours, salty smoke dominates.
Finish: Short on heat, very long on flavour and smoke. A touch of residual sweetness too which I don't recall from the last time I tasted a dram of it (admitted quite a while ago). Probably one of the longest finishes you can get. Still loads of peat.

Comments: About time I tackled some of the more readily available whiskies…my strategy so far this year has been to generally select some of the more unusual whiskies available at each bar, keeping the more common ones up my sleeve. This approach has held me in good stead as I've not yet walked into a bar where I've had all of their whiskies. I'm glad that I've finally gotten around to tasting the Lagavulin 16, it's always been an old favourite and it didn't disappoint here upon re-tasting it for the first time in a while.