by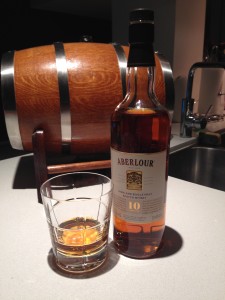 Aberlour 10 Year Old Single Malt. Highlands, Scotland. ABV: 40.00%. Tasted at home, $50 (bottle).
Colour: Deep orange.
Nose: Caramel and mixed spice.
Palate: Sherry flavours coming through now; sweet toffee flavours balanced with some tart orange peel.
Finish: Gentle pepper and tobacco flavours; the slightest hint of sweet smoke. Medium length.
Comments: Great value for money (although I did manage to grab it on special with 20% off). Even at full price ($62) it's a cracking drop.