by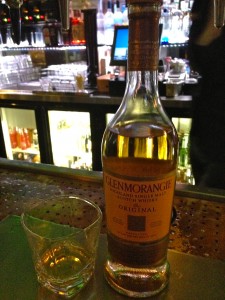 Glenmorangie The Original 10 Year Old Single Malt. Highlands, Scotland. ABV: 40.00%. Tasted at the Brass Monkey Hotel, $0 (courtesy of my mate Brett).
Colour: Light gold. Paler than I remember.
Nose: Subtle; sweet and woody.
Palate: Gentle spice, vanilla, sweet oaky flavours.
Finish: Hay-like sweet notes in the fade. A touch of liquorice. Not much heat at all.
Comments: Glenmorangie is probably my favourite distillery, and while I don't usually drink their Original 10 year old (my go-to whisky is the Glenmorangie Nectar D'Or, which will bookend this whole Whisky a Day project), it actually holds a pretty special place in my heart. You see it was when I first tasted the Glenmorangie Original at a university scotch and cigar night that my interest in whisky was piqued (check out the story here). So I guess you could say the Original is a great introduction to the world of whisky for those who haven't tried much before!