by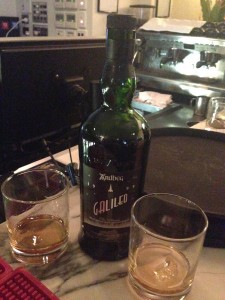 Ardbeg Galileo 1999 Single Malt. Islay, Scotland. ABV: 49.00%. Tasted at The George, $17.
Colour: Orange gold. Much darker than most Ardbeg expressions.
Nose: Soft smoke, honey.
Palate: Honeycomb, dark chocolate, smokey peat but not as intense as I expected.
Finish: Softer, slightly sweeter peat taste which builds. Flavours linger on the tongue.
Comments: Much softer than other Ardbegs. I really enjoyed this one, although as a special release it's a little harder to get your hands on than your average Ardbeg. My trusty whisky imbibing lieutenant Joel also quite enjoyed it – he found it peaty but not too over the top. Good to see some subtle variation from Ardbeg with this one, as often their releases can be a little too similar for me – cracking whiskies, but just a little similar. The Galileo certainly is one of their better ones that I've tried.