by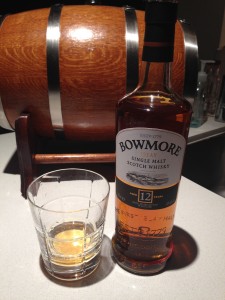 Bowmore 12 Year Old Single Malt. Islay, Scotland. ABV: 40.00%. Tasted at home, $70 (bottle).
Colour: Amber; a touch darker than the Bowmore Legend.
Nose: There's a fair bit of smoke here as you would expect, but it's not quite as raw or intense as the Legend.
Palate: It tastes a little like dusty bookshelves smell, if that makes sense. I haven't personally tried to eat a dusty bookshelf, but the taste here is reminiscent of that smell. Earthy yet with plenty of soft smokey peat.
Finish: Smoother than the Legend and the finish seems a fraction shorter too. It's still quite a long fade, especially the gentle heat.
Comments: The Bowmore 12 and Bowmore Legend are quite similar, but the 12 year old is a bit softer and well rounded; the Legend a little less refined.