by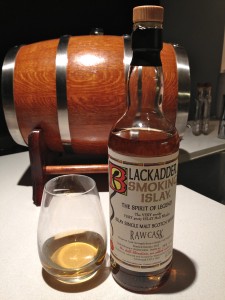 Blackadder Smoking Islay Raw Cask (Sherry Cask) Cask Strength Single Malt. Islay, Scotland. ABV: 60.50%. Tasted at home, $180 (bottle).
Colour: Pale gold.
Nose: Meat and molasses cooking on a campfire. A hint of cocoa.
Palate: Jammy flame-grilled meat flavours, plenty of peat and smoke.
Finish: Lots of residual warmth, long finish.
Comments: A cask strength release from a single sherry cask, this is simply stunning. The best Islay whisky I've tried so far this year. Words failed me a little when making my tasting notes, mainly because I was enjoying it so much and didn't want to over-analyse it. Yes at 60.5% it's a monster, but it doesn't need to be diluted in my opinion. As the name suggests, it is raw but the influence form the sherry cask means that it's got some residual sweetness too. Absolutely superb.