by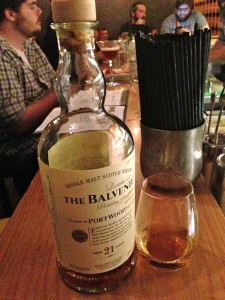 Balvenie Port Wood Finish 21 Year Old Single Malt. Speyside, Highlands, Scotland. ABV: 40.00%. Tasted at Helvetica, $37.
Colour: Deep burnished gold.
Nose: Gorgeous nose. Sticky syrupy toffee with a hint of oak. The softest touch of smoke.
Palate: So smooth on the palate; sweet dried sultanas or muscatelles. A bit buttery but then some nutty tones too.
Finish: Oily mouthfeel, warmth delicately builds, sweet woody & tobacco notes emerge in the fade. I haven't ever gnawed on a cigar box but imagine this to be like the delicious aftertaste.
Comments: It's difficult to come up with any smartarse comments when you're tasting a whisky that you find amazing. Simply a fantastic drop.