by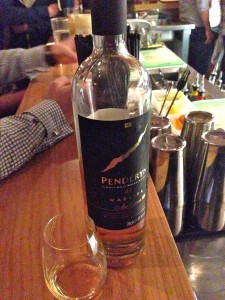 Penderyn Madeira 41 Single Malt Welsh Whisky. Penderyn, Wales, United Kingdom. ABV: 41.00%. Tasted at Helvetica, $19.
Colour: Ambery gold.
Nose: Earthy, hay-like; nose drying.
Palate: A bit grassy on the tongue too. Crisp entry, it's direct – none of this slowly enveloping the palate with syrupy sweetness kind of caper.
Finish: Quite short and thin, somewhat sweet lemon notes to fade.
Comments: My second Penderyn of the year. The first wasn't overly memorable, this one fares a little better but still I'm not about to go and pick up a bottle of it next time I'm at the bottlo. Why why why Delilah? Because it's a little disappointing to be honest.