by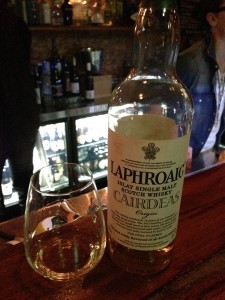 Laphroaig Cairdeas Cask Strength Single Malt. Islay, Scotland. ABV: 51.20%.
Colour: Candlelit amber.
Nose: Strong smokey aromas, smoked meaty flavours.
Palate: Short oily smooth entry with hints of sultanas, very quickly fades to some smokey meat & peat flavours.
Finish: Smokey flavours at the front half of the palate, not as powerful as I was expecting – a good thing mind you, smoother. Quite a mouth-warming sensation in the fade.
Comments: Bam – peat bomb. It has more depth of character than other Laphroig's I've had before. I like it.