by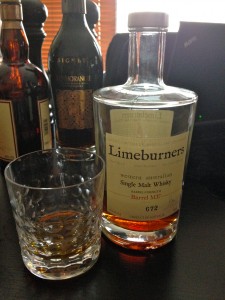 Great Southern Distillery – Limeburners Barrel M37 Single Malt. Albany, Western Australia, Australia. ABV: 61%. Tasted at my mate Joel's place, $0 (Joel's shout – well it was part of a whisky tasting swap).
Colour: Deep copper.
Nose: Bit of an alcohol prickle, suggests quite a hit to come. Sultana aromas too.
Palate: Candied dried fruit, overshadowed by the big alcohol heat.
Finish: Again the heat dominates, slowly filling your chest as it makes its way down. Long finish, a few meaty flavours in the fade.
Comments: A whisky to put hairs on your chest, bottled at a barrel strength of 61%. Not as refined as the other Limeburners I've tried so far (see the M104, M100, M67, M174).