by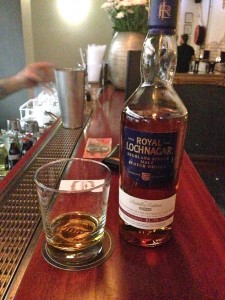 Royal Lochnagar Distillers Edition Double Matured Single Malt. Highlands, Scotland. ABV: 40.00%. Tasted at Lafayette, $20.
Colour: Amber, leathery brown.
Nose: A very soft perfume, a hint of sherry.
Palate: Toasted malt and sherry notes. Reminds me a little of the Auchentoshan Triple Wood, though it has been a while since I've tasted that so I hope my recollection is on the mark.
Finish: Dry; lots of oak. Some dried fruit notes hang around to remind you of it's heritage.
Comments: Extra matured in old muscat barrels, after having spent its early years maturing in a combination of American oak & ex sherry barrels. I was a little surprised when I had a sip – it shares qualities more associated with sherry matured drams. I love muscat, so the influence from the muscat barrels is not as pronounced as I had hoped. Still a decent drop though.