by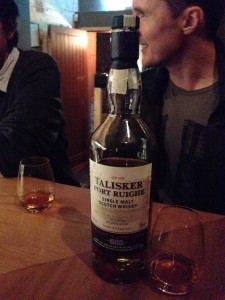 Talisker Port Ruighe (Port Finished) Single Malt. Isle of Skye, Scotland. ABV: 45.80%. Tasted at Helvetica.
Colour: Copper amber.
Nose: My mate Marc picked up notes of a smokey damp pine forest. I got some sweeter toffee notes after a bit of time in the glass.
Palate: Much softer than the Talisker 10. Softer spice, still some smoke but not the fire.
Finish: Medium length, flavour fades from the front of the palate.
Comments: Toy palate, the port finish softens it a little compared to other Talisker offerings. Not all that inspiring however, though it's certainly not a bad whisky, just middle of the road.