by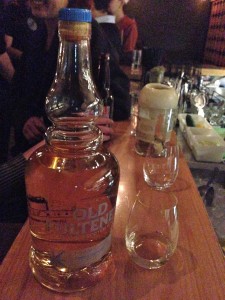 Old Pulteney Noss Head Lighthouse Highland Single Malt. Highlands, Scotland. ABV: 46.0%. Tasted at Helvetica.
Colour: Very clear pale straw.
Nose: Beeswax, straw and some lemon. Which sounds interesting, but it's really not that great.
Palate: Floral hay-like flavours, quite bright. Gentle alcohol warmth.
Finish: Oily mouthfeel, subtle sweetness. Warmth builds, but flavours subside quickly.
Comments: according to my friend Marc it's more like a "Todd Carney Sauternes, exited as a yeast infection." Not going to be a crowd pleaser. For me I'd rate it a little higher than Marc's assessment but it's only average, I wouldn't go seeking it out. As a duty free only whisky I'm sure it won't be hard to steer clear.