by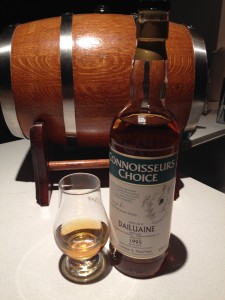 Gordon & Macphail's Connoiseurs Choice Dailuaine 1995 Single Malt. Speyside, Scotland. ABV: 43.0%. Tasted at home, $50 (bottle).
Colour: Dark gold. But then holding the glass another way it's more of a pale gold. Interesting.
Nose: Vanilla mainly, followed by oak. A hint of toffee.
Palate: Thin mouthfeel, but still packs a punch – plenty of rich, spicy flavours and alcohol heat. Oak, a touch of buttery toffee and dried fruit flavours too.
Finish: Medium to long finish, peppery notes dominate as the flavours fade.
Comments: Dailuaine Distillery is relatively unknown for most single malt drinkers (myself included prior to buying this bottle), with the vast majority of it's production going into blends such as Johnnie Walker (cringe!). I'm happy to report this is a very decent whisky, though not perhaps as enjoyable as the other Gordon & Macphail's Connoisseur Choice I recently tried, the Arran 1999.