by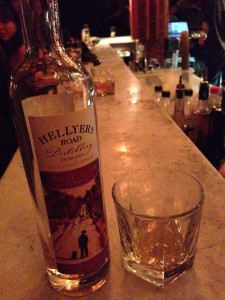 Hellyers Road Distillery Original Pinot Noir Finish Single Malt. Tasmania, Australia. ABV: 46.20%. Luxe Bar, $15.
Colour: Nightclub-influenced amber.
Nose: Quite light, some hay-like notes.
Palate: Grassy lemon sherbet.
Finish: Tobacco and straw notes, medium length, quite a dry mouthfeel.
Comments: I'd rate this one a little better than their other expressions I tasted in a Hellyers Road Tasting Flight recently. Though in my humble opinion, I have to say Hellyers Road is not quite in the same league when compared to the other Tasmanian distilleries like Lark and The Nant. Not bad though.