by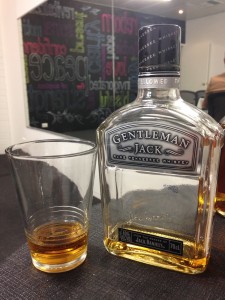 Jack Daniels Gentleman Jack Tennessee Whiskey. Tennessee, United States. ABV: 40.00%. Tasted at my mate Ryan's place – $0 (courtesy of the poker fund).
Colour: Browny amber.
Nose: Corn dominates, little else to note.
Palate: Not too smooth. A little peppery, aniseed and corn flavours too.
Finish: Short to medium length, much smoother to finish than when it first hit the palate.
Comments: It actually got better with some time in the glass, but overall it was quite average. Not horrible, but I wouldn't recommend it.