by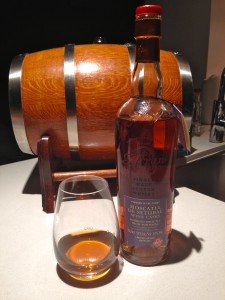 The Arran Moscatel De Setubal Wine Cask Single Malt. Isle of Arran, Scotland. ABV: 55%. Tasted at home, $80 (bottle).
Colour: Deep, deep copper.
Nose: Intense. Oak, orange peel, butter and molasses.
Palate: Again some very complex and intense flavours. Absolutely delicious – rich fruit, primarily plums. Syrupy sweetness at the front of the palate, yet quickly outmanoeuvred by some intense spice and heat.
Finish: Very long; flavours and warmth keep building before eventually dropping away.
Comments: Wow. Cask strength, eight years in oak then 10 months extra maturation in barrels that had previously held Moscatel de Setubal Portugese dessert wine. Love it – another deliciously complex malt from Arran, the kind of whisky where you keep uncovering more layers with each sip.