by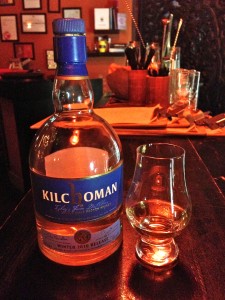 Kilchoman Winter Release 2010 Single Malt. Islay, Scotland. ABV: 46%. Tasted at Canton Lounge, $16.
Colour: Pale straw.
Nose: Gentle smokey notes, like smelling a small grass fire from a distance.
Palate: Thin entry, toasted peat flavours abound.
Finish: Quite dry; briny smokey flavours in the fade. Medium to long finish.
Comments: Much lighter than your average Islay, it certainly tastes quite young. Not surprising given Kilchoman are still an emerging distillery and this was one of their earlier releases.