by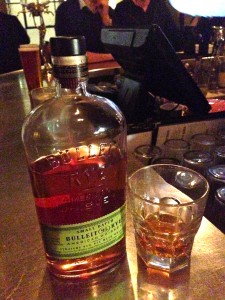 Bulleit 95 Straight Rye Whiskey. Lawrenceburg, Indiana, United States. ABV: 45.00%. Tasted at Bobeche, $14.
Colour: Burnt caramel.
Nose: Honey and pine needles. And popcorn.
Palate: A smooth entry initially, then massive rye flavours. Mixed spice, a slight prickle on the palate.
Finish: A dry finish, medium length.
Comments: It's decent, but it's not the standout that I had read in some reviews. I guess it's good value but it doesn't set my world on fire.