by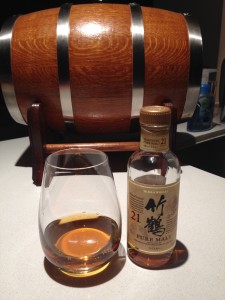 Nikka Taketsuru 21 Year Old Pure Malt Japanese Whisky. Hokkaido, Japan. ABV: 43.00%. Tasted at home, $35 (180mL bottle).
Colour: Toffee.
Nose: Cane, straw.
Palate: Toasted malt, vanilla, brown sugar. Oily mouthfeel. Great depth of flavour.
Finish: Long tingle around the lips and mouth. Sweetness gently fades, ends up being a dryish finish.
Comments: A very well-balanced whisky, great complexity and full of flavour. Delicious.