by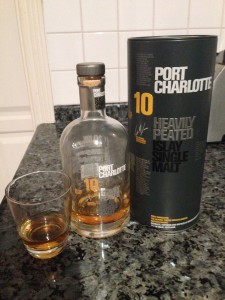 Bruichladdich Port Charlotte PC10 Heavily Peated Single Malt. Islay, Scotland. ABV: 46.00%. Tasted at my mate Gordy's place, $0 (Gordy asked for assistance finishing his whisky before he moved house. I was happy to oblige).
Colour: It's like a dark Jesus Christ! Sorry, dropped my phone as I was typing that. It's like a dark varnished timber floor.
Nose: Oh yes it's heavily peated. Charcoal beef patties.
Palate: Big peat, but not a lot of smoke. Quite a dry mouthfeel. It's got lots of flavour, but it's not super intense.
Finish: Smooth briny peat. Quite a long finish, but as it's not a super intense flavour bomb of peat it's actually quite a gentle long fade.
Comments: Smoother than I was expecting. Not as meaty and intense as the "heavily peated" moniker had suggested, but still quite a lot of peat and quite tasty.