by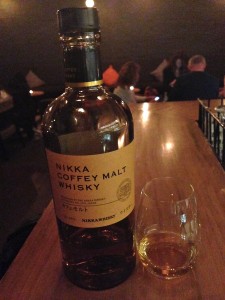 Nikka Coffey Malt Japanese Whisky. Miyagikyo, Japan. ABV: 45.0%. Tasted at Helvetica, $28.
Colour: Light amber.
Nose: Fresh oak, sawdust, hay-like notes along with some sweetness.
Palate: Much drier than I was expecting – from the nose I had thought it might by a bit richer and maybe a little syrupy.
Finish: Dried cocoa, liquorice. Interesting that there's a few more sweet notes emerging in the finish compared to when it first enters the mouth. Flavours and a gentle heat seem to build for a while before the eventual fade.
Comments: A real chameleon of a whisky; it's constantly revealing more layers of complexity with each sniff, each mouthful. Rich yet delicate, it's a whisky of contrasts. Much like a girl playing hard to get when you're first dating, it's a whisky that beckons you back for another encounter or five to truly get to know it.