by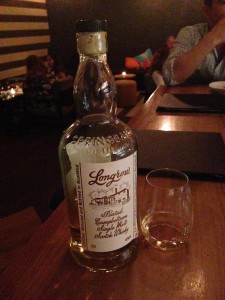 Longrow Peated Campbeltown Single Malt. Campbeltown, Scotland. ABV: 46.0%. Tasted at Helvetica, $19.
Colour: If there's one thing I won't miss about this Whisky a Day project, it's having to come up with different ways to describe the colour of each dram. Particularly as colour bears little to no significance as to the whisky's quality. Apart from notable exceptions such as the Kavalan Solist ex Sherry Cask which has a very unique colour, it's very hard to come up with different ways to describe subtle variation in shades of gold/amber/straw. This one is a pale gold.
Nose: Peaty, but not as intense or smokey as your Islay peated whiskies, it's got more suble medicinal qualities.
Palate: A smooth, cool entry. Dry woody notes, a little nutty too.
Finish: The peat certainly lingers but doesn't envelop your mouth like bigger peated whiskies. Medium length, only light to medium heat.
Comments: If you find the heavily peated Islay malts a bit overpowering, this peated Longrow could be a good way to dip your toe in the water and explore some peat without the intensity.