by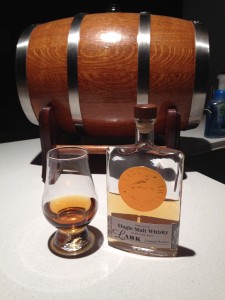 The Lark Distillery Port Cask Finish (Bottled 2013). Tasmania, Australia. ABV: 46.0%. Tasted at home, $45 (100mL bottle).
Colour: Quite an orangey bronze.
Nose: Initially it was a little harsh, but after a short while in the glass the nose softens revealing muscatels and charred oak.
Palate: Rich and full flavoured; toffee sweetness balanced with slightly tart fruity flavours. Tastes a little stronger than 46% ABV.
Finish: Quite dry; cocoa and cigar box flavours. Gentle warmth fades in a medium to long finish.
Comments: Another great offering from The Lark. To be honest, when I took my first sip I was a little disappointed as I thought it was a bit raw and harsher than the other Lark Port Cask Finish (also bottled in 2013) I recently tried. But in the name of science, I pressed on and continued the tasting – I'm very glad that I did as it developed into a great drop. I still rate the Lark Sherry Cask Finish as my favourite Lark expression that I've tried so far this year, but the Port Cask offerings are not too far behind.