by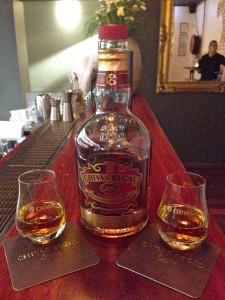 Chivas Regal Extra. Speyside, Highlands, Scotland. ABV: 40%. Tasted at Lafayette.
Colour: Dark varnished timber.
Nose: A bit of oak, a bit of sherry. That's about as complex as it gets.
Palate: surprisingly thin on the palate. Soft enough, but not much depth. It's got some sherry flavours but they're sadly quite watered down.
Finish: Reasonably short finish, quite dry.
Comments: The "Extra" is a blend with a higher proportion from ex sherry casks than other Chivas offerings, so I was intrigued to see if it had that typical sherry richness and fruity sweetness. To be honest I found the flavours to be ok, but I cannot help but think it would've been interesting to try before they'd diluted it down to 40%. My good friend Giles is quite underwhelmed – "all I can taste is marketing". Hard to disagree with that assessment old boy.