by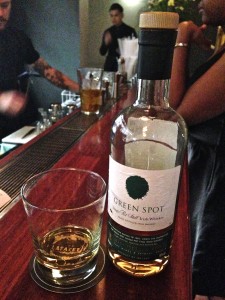 Middleton Green Spot Irish Whiskey. Dublin, Ireland. ABV: 40.00%. Tasted at Lafayette.
Colour: Solid gold.
Nose: Smells like a rye whiskey. Grassy notes too.
Palate: Lots of rye-like spice on the palate too. Very pleasant without being overly complex. Quite a dry mouthfeel. A touch of black pepper and spice.
Finish: Gentle development of flavour and warmth, but a medium finish.
Comments: While obviously not a rye whiskey, it does share similar qualities with some American rye whiskies. Not too bad overall.