by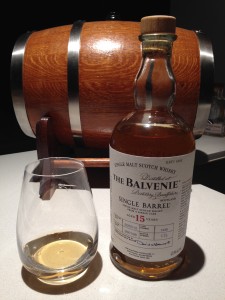 Balvenie 15 Year Old Single Barrel Single Malt. Speyside, Scotland. ABV: 47.80%. Tasted at home, $115 (bottle).
Colour: Brilliant translucent yellow.
Nose: Vanilla and bush honey.
Palate: Sweet biscuity notes. Creamy and buttery. Oily mouthfeel.
Finish: Medium length, lots of sweet oak and vanilla flavours. Almost a bit jammy.
Comments: A very smooth dram, the fact that half the bottle has mysteriously disappeared over a few days would suggest that it's dangerously drinkable!