by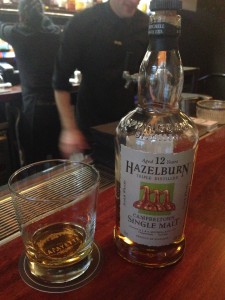 Hazelburn 12 Year Old Single Malt. Campbeltown, Scotland. ABV: 46.00%. Tasted at Lafayette, $20.
Colour: Tired gold. The type of gold that's a little worn out by being so lustrous so it's now a little dulled.
Nose: Gentle wood and honey notes. Also some subtle savoury aromas too; a little like when you peel the outer layers off eschallots before slicing them up.
Palate: Fairly one dimensional, just lots of oak.
Finish: Very long, mainly woody notes. Like going to the doctor and they place timber stick on your tongue and make you go "argh". Slightly sour sensation on the tongue as it fades.
Comments: One of the very few triple distilled whiskies from Scotland. A solid, yet not spectacular whisky.