by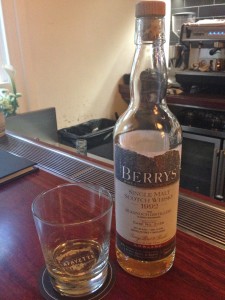 Berry's Bladnoch 19 Year Old 1992 Single Malt. Lowlands, Scotland. 46%. Tasted at Lafayette, $22.
Colour: Very pale lemon.
Nose: Floral, quite delicate. Citrus notes too – not like the outside of an orange peel, but more like the smell after you've peeled an orange or mandarin and you're just left with the white pith.
Palate: Quite a soft entry, but then quickly builds with a bit of heat and pepper.
Finish: Long finish. Gradually dries and contorts itself on the palate as it fades, revealing lemon and pepper.
Comments: Bottled in 2011, having been aged for 19 years. Surprisingly complex for a Lowlands whisky. It's very light yet complex, some great stuff going on here.