by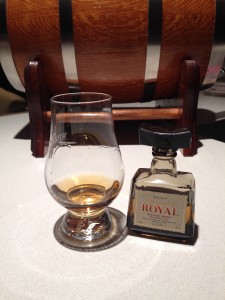 Suntory Royal Blended Whisky. Japan. ABV: 43%. Tasted at home, $7 (50mL miniature bottle).
Colour: Dark caramel.
Nose: Musty oak, a bit grassy. Some faint aromas that almost remind you like you've just opened a bag of plain corn chips.
Palate: Velvety smooth entry, it slithers its way around your palate. Very oily mouthfeel, quite a cooling sensation initially before the heat starts to build. Soft woody notes, a touch of sweetness.
Finish: Juicy, like chewing on a long fresh piece of grass.
Comments: It's Suntory time, and I quite like this one actually. Wasn't quite sure what to expect, particularly being a blend; ultimately very drinkable.