by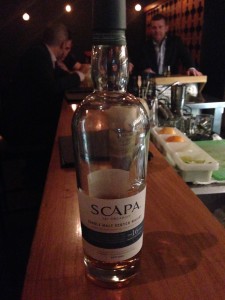 Chivas Brothers Tasting with Laura Hay. Helvetica, $50.
I was fortunate to attend another tasting event hosted by Chivas Brothers ambassador Laura Hay. We had five whiskies to taste, however I've already covered three of them so far this year – The Glenlivet 18, Longmorn 16 and Aberlour A'bunadh. I suspect as the year draws to a close there will be a few more times like this where I've sampled some of them already.
Whisky #256, Scapa 16 Year Old Single Malt. Orkney Islands, Scotland. ABV: 40.00%.
Colour: Pale toffee.
Nose: Very soft. Orange peel, vanilla, straw. Reminds me of walking into a room with freshly varnished timber floorboards.
Palate: Soft oak, some hay-like flavours.
Finish: Short to medium length, a little briny but not like other island malts, it's very light and subtle.
Comments: Fresh and light. Quite pleasant, but it's not the kind of whisky that's going to really wow you. A great whisky to kick off the evening's whisky tasting though.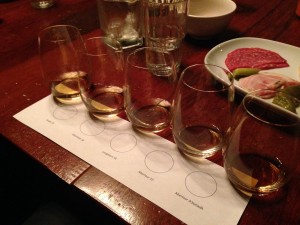 Whisky #257, Aberlour 12 Year Old Double Cask Matured Single Malt. Speyside, Scotland. ABV: 43.00%.
Colour: Light amber.
Nose: Earthy, but quite light. Musty bookshelves. Pistachio shells.
Palate: Stoney is how I'd describe it. Much more subtle sherry notes than the Aberlour 10 year old.
Finish: Medium length, not much heat.
Comments: I actually didn't enjoy this one as the Aberlour 10 Year Old Single Malt, which apparently is being phased out of the Aberlour lineup in favour of the 12 year old. Not as sweet and sherry-like as I was expecting. My good mate Tim remarks that it's his ideal whisky when you're having a shit day, it's the one you turn to when you get home and pour yourself a dram. It's smooth yet uncomplicated; you can drink it with the assurance that everything is going to be alright. Couldn't have said it better myself Timbo!