by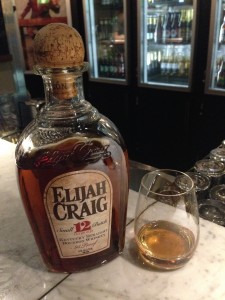 Elijah Craig 12 Year Old Bourbon Whiskey. Kentucky, United States. ABV: 47.00%. Tasted at The Royal Hotel, $12.
Colour: Like looking at a 40 year old stripper called Amber through rose-coloured glasses.
Nose: Lots of rye initially, in fact that's all I could smell. Softens after a few minutes in the glass, a few faint lemon & woody notes begin to poke their heads above the parapet.
Palate: Boom – there's your traditional bourbon flavours.
Finish: Liquorice, aniseed; a quick drying sensation which leaves a tingle on the front half of the mouth (not just the tongue). Some pepper and spice in the medium to long fade.
Comments: The nose seemed to suggest something a little unique, but when I took a sip it was a relatively standard bourbon. Certainly not bad, but equally it's nothing to write home about.