by

Frank McHardy Masterclass at Whipper Snapper Distillery, $90.
The master distiller from Springbank, Frank McHardy, has been enlisted by our amazing local Whipper Snapper Distillery to act as their Chief Whiskey Advisor. Given Frank's 50-odd years of experience at Springbank, it's fair to say the Whipper Snapper boys could hardly have chosen a finer mentor. So it was a great privilege to be able to attend an intimate masterclass where Frank led us through a tasting of Springbank, Hazelburn and Kilkerran malts, along with some behind the scenes insights into whisky production at Springbank.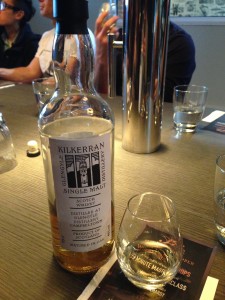 Whisky #259: Kilkerran Work in Progress 7 Year Old Single Malt. Campbeltown, Scotland. ABV: 46.0%.
Colour: Pale gold
Nose: Very faint hint of peat, subtle sweetness too.
Palate: A very clean, crisp flavour profile. Oily mouthfeel. Floral sweetness.
Finish: Gentle heat front half of palate that builds slightly, medium length. Salty vs sweet flavours battle it out, great balance.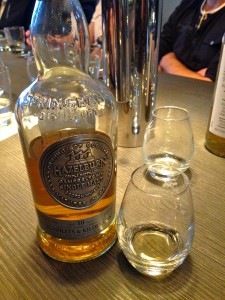 Whisky #260: Hazelburn Rundlets & Kilderkins 10 Year Old Single Malt. Campbeltown, Scotland. ABV: 50.1%.
Colour: Pale gold again.
Nose: Floral, vanilla notes. With time in the glass it really starts to develop some rich woody notes.
Palate: Rich, deep buttery raspberry flavours.
Finish: Softer finish than the Kilkerran. Dried fruit flavours linger long on the palate, as does the warmth again on the front half of the tongue.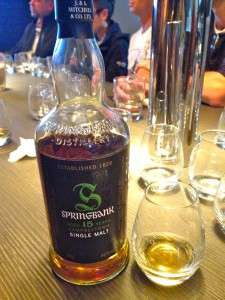 Whisky #261: Springbank 15 Year Old Single Malt. Campbeltown, Scotland. ABV: 46.0%.
Colour: Deep rich gold.
Nose: Honey on hot buttered toast. Quite mild, not too intense.
Palate: Thicker syrupy mouthfeel compared to the Springbank 10. Not super sweet mind you, some subtle honey flavours along with some rich dried fruit flavours.
Finish: Buttery dried fruits, long tingle & flavour fade.
Overall comments: All three have spent some time maturing ex sherry casks, although I wouldn't have picked it initially. No huge sherry bombs, the Springbank 15 in particular is quite subtle. The Hazelburn Rundlets & Kilderkins was the pick for me.
A fascinating afternoon listening to Frank talk about the history of Springbank and his own career. The guided tour of Whipper Snapper by chief distiller Jimmy McKeown was also fantastic, plus that gorgeous copper still of theirs (see below), wow. Hats off to the Whipper Snapper boys, these guys are really going places.