by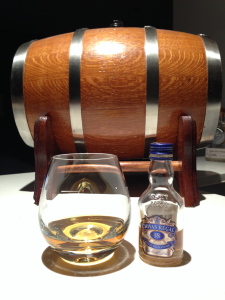 Chivas Regal 18 Year Old Blended Scotch Whisky. Speyside, Highlands, Scotland. ABV: 40.00%. Tasted at home, $9 (50mL sample bottle).
Colour: Light caramel.
Nose: Citrus, straw and faint honey notes.
Palate: Smooth yet more flavour depth than I was expecting from a blend. A little like sweet biscuits – think of buttery Nice biscuits, the ones with sugar sprinkled on top.
Finish: Medium length, minimal heat. Quite dry. You can taste the Nice biscuits gradually fading as the grains of sugar dissolve in your mouth.
Comments: Again much like the Chivas 12 year old, I was pleasantly surprised by this one. It's no world-beater and is a little too mild and unassuming for my tastes, but it's certainly easy drinking.