by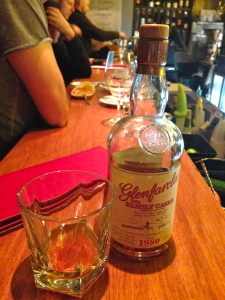 Glenfarclas 1980 Family Casks Single Malt. Speyside, Scotland. ABV: 50.1%. Tasted at Must Winebar, $37.
Colour: Light amber. Not nearly as dark as I thought it might be given it has spent 27 years in an ex sherry barrel.
Nose: A very, very subtle toasted oak. Surprisingly soft given the ABV.
Palate: Quite dry, yet warming. Delicious caramel and hay-like woody notes.
Finish: Intense warming in a good way – like putting your hands close to an open fire. Putting your mouth towards an open fire??? That doesn't really make much sense, maybe sans the singed eyebrows. You get my drift.
Comments: A single cask release, it's one of only 681 bottles from a refill sherry butt. Distilled in 1980, bottled in 2007. Yes it's old and yes it's quite uncommon, but I'm not convinced it's worth $37 a nip. A great drop however.